This past weekend, we decided to head over the Santa Cruz and enjoy the Boardwalk one last time before the chilly winds of autumn started kicking in. We were lucky and had amazing clear blue skies & warm air! Eric and I met our friends Jade & Max over there for some double dateness fun! ;D

The gorgeous Boardwalk, taken from the Pier: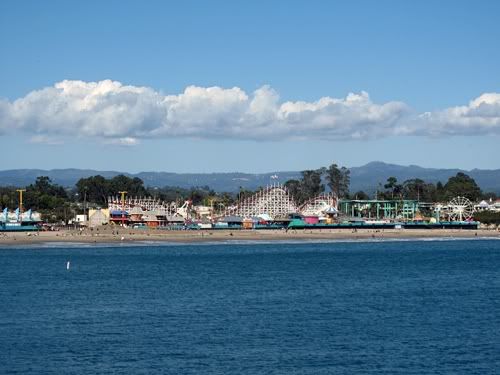 Inside the arcade, they have an awesome shooting gallery. Love the pig butt!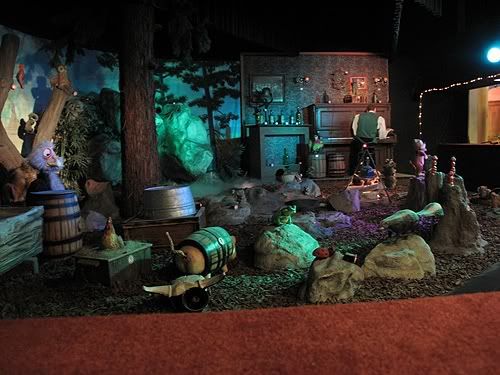 Waiting for our Desperado shooting/horse ride game to start: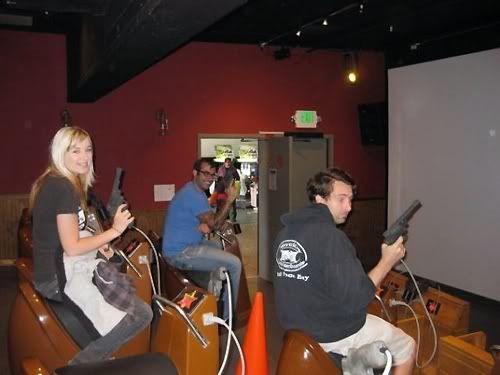 Thems some good shootin' partner: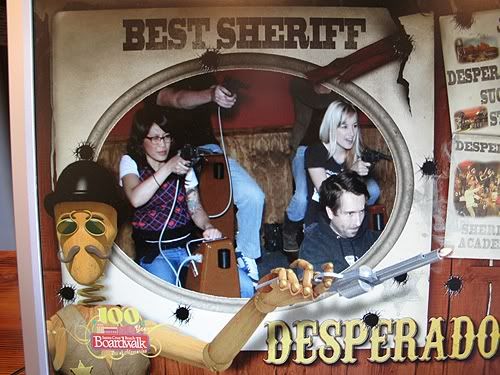 Eric came in second place! Only one point behind the winner! (don't meet him in a dark alley!)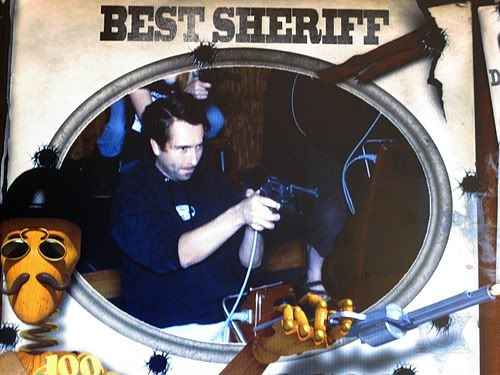 Next up, craziness on Hurricane & The Giant Dipper! Cuties Jade & Max, with a creepy blonde behind them: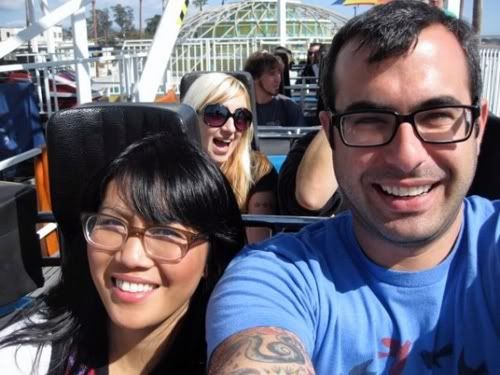 JAZZ HANDS!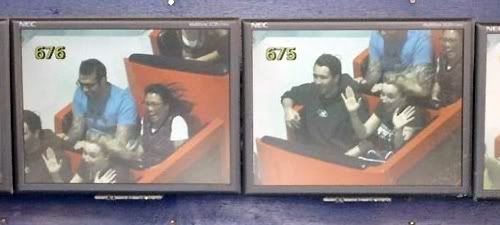 Cheesy art on the "Rock n Roll" ride. Funny MJ that they had painted 3 times! We couldn't figure out who that chick was supposed to be?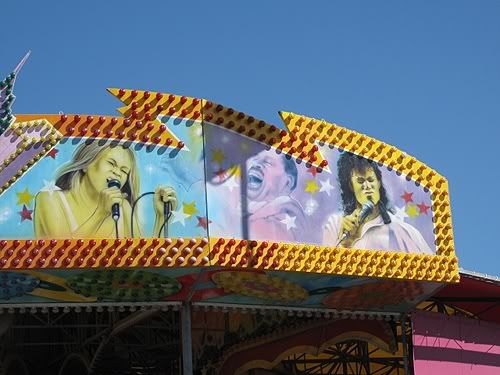 Our men were heroes won us mini guitars playing the dart game! Here we are demonstrating our excellence in product modeling: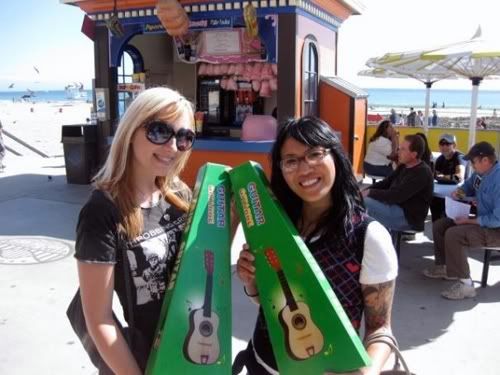 Tuning it up!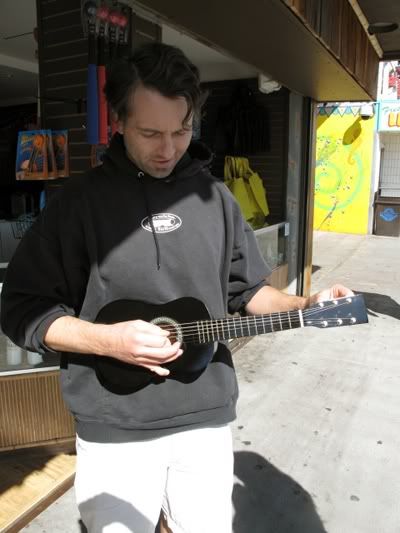 The best for last, we HAD to go on the log ride! We didn't see anyone getting wet, so we weren't worried. WRONG! I guess 4 adults = heavy boat! We got SOAKED!!!

Before, happy & dry: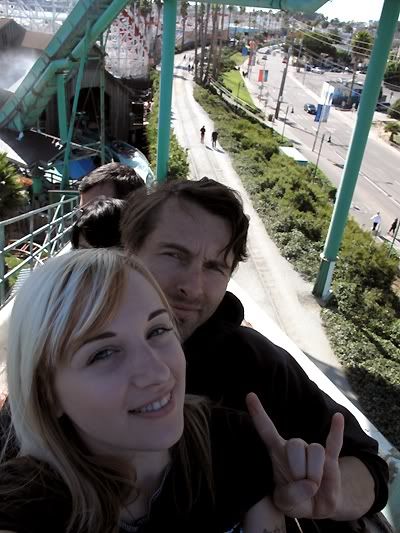 After! Soaked to the bone!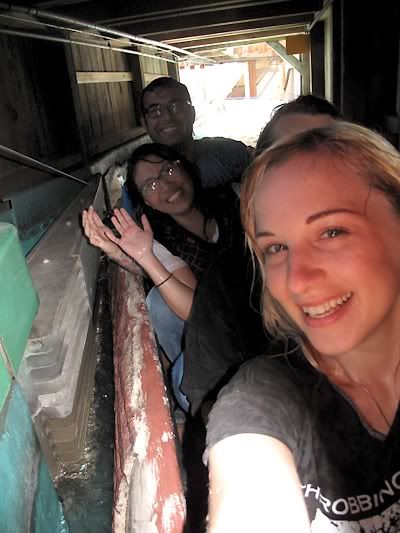 Jade and I decided that we had to recreate our fabulous Log ride photo that we did with Amy & Yana back in 2005!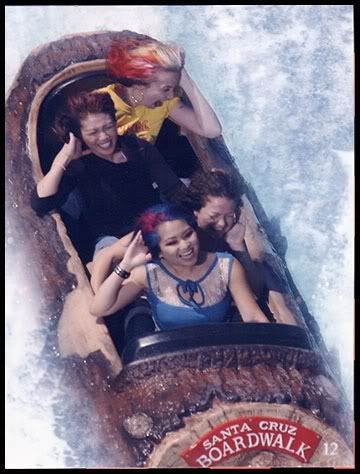 Jade was so proud of how good she looked in our updated version! Me, well.... I suck at taking these shots! Hahaha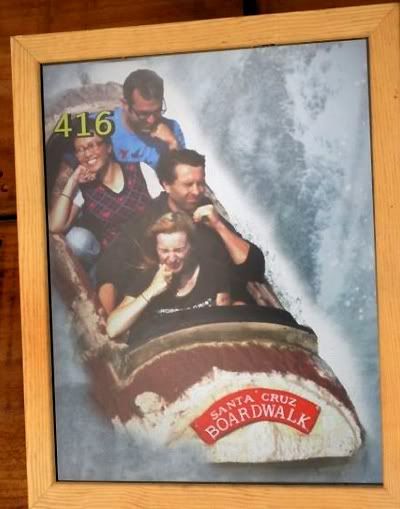 oxox!